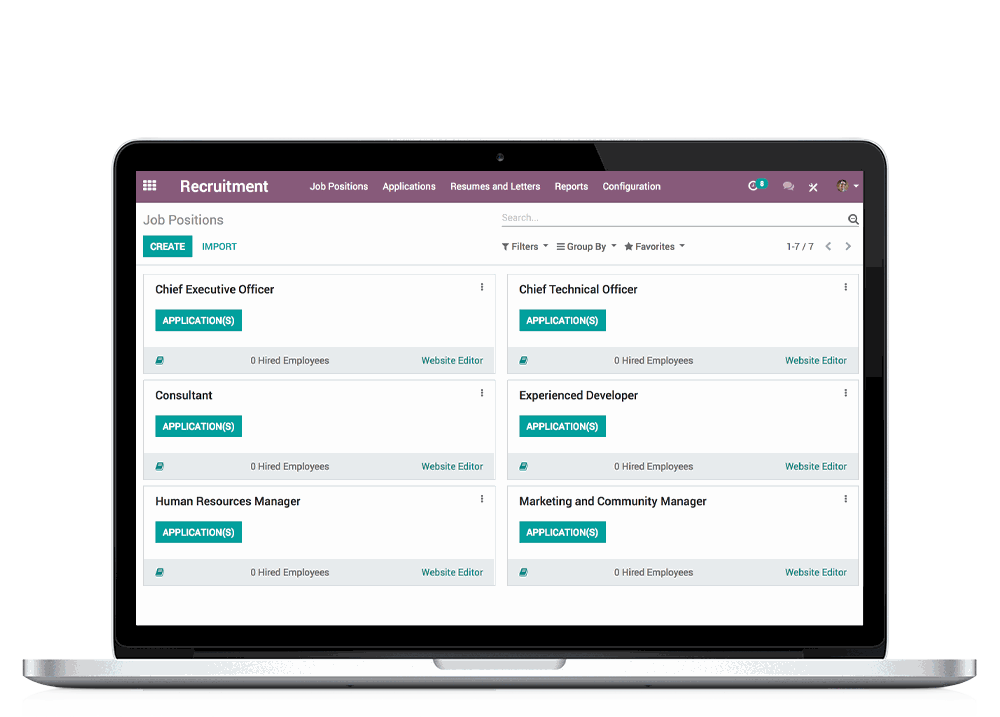 Human Resource Management
Recruitment - From the sourcing to the contract , handle your recruitment process easily

Employee directory- Oversee all important information by department at a glance. Get alerts for any new leave request, allocation request, application or upcoming appraisal.

Attendance - Keeps account of the attendances of the employees on the basis of the actions(Check in/Check out).

Leave - Keep track of all your employees vacations by handling all requests and get reports to plan ahead.

Payroll - You can easily manage your company payroll by using Payroll module

Expense - Managing your employees' daily expenses has never been easier. Whether it's travel expenses, office supplies, access all receipts and expense submissions from your Expenses dashboard and create, validate, or refuse them in just a click.

Customer Relationship Management
Lead Scoring-. Define different actions based on lead score and team assignation rules. Decide which total score deserves to be converted into an opportunity.

Import Leads-Easily import prospects files with column matching tool.Define your own rules to assign leads to the right sales team or sales person based on quotas and segments.


Activities and calls management-Organize sequence of activities per opportunity. Schedule activities. Log every activity immediately in the opportunity's chatter with predefined actions. Track, log and analysis the activities of your team.

Pipeline management-Get a clear overview of the opportunity pipeline. Work faster with the drag & drop interface. Set up specific stages for each sales team. Possibility to create sub-stages to better organize the processes.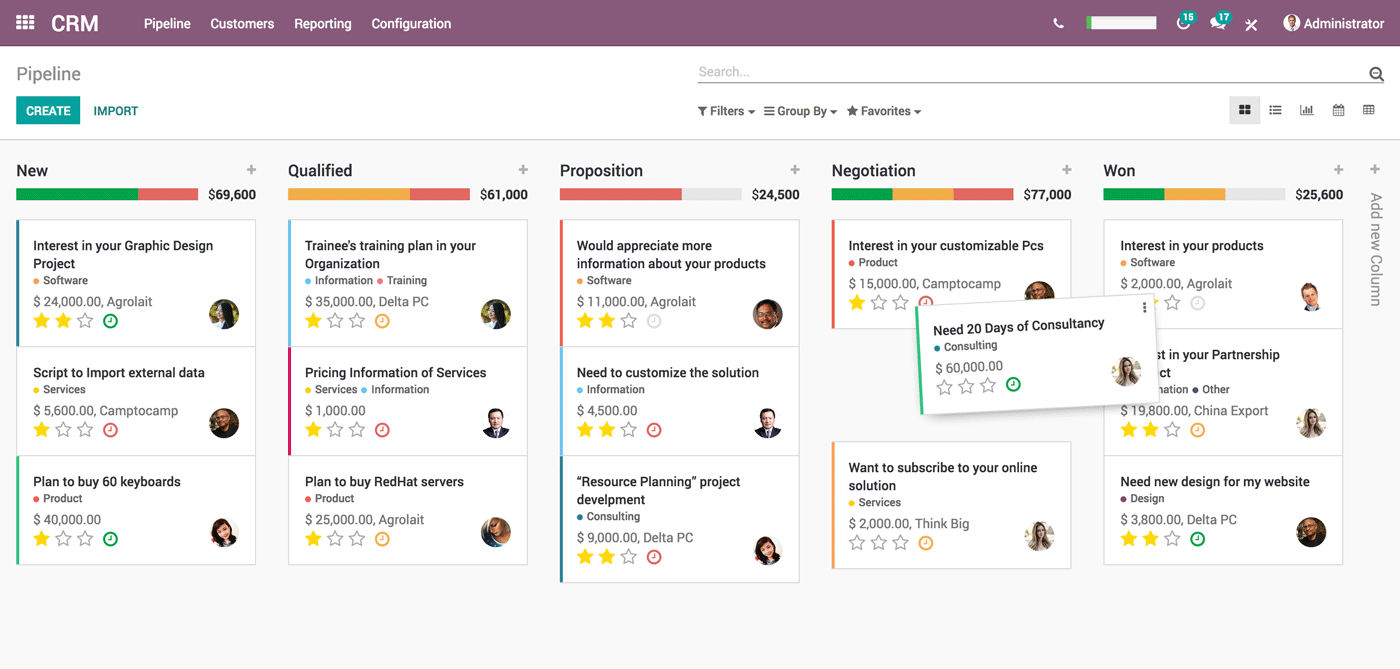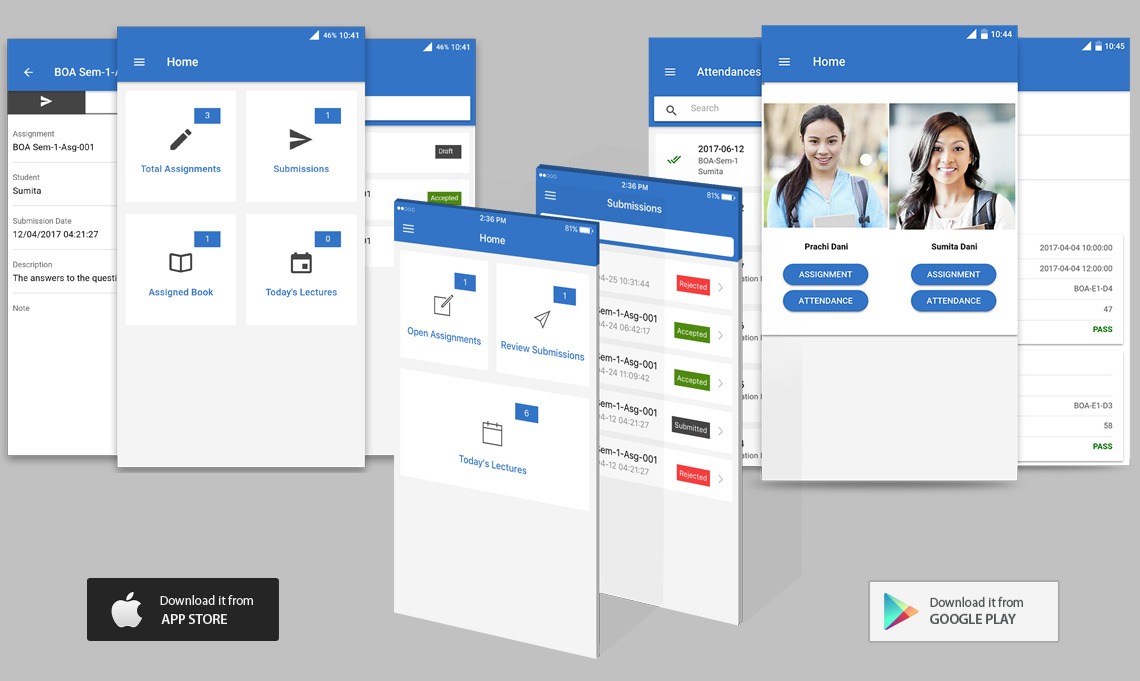 Education Management
Student-Optimal Learning with collaborative Environment.

Course-Created Edit and Share Courses for powerful learning.

Financial-Keep Tab On Finances with systematic Approach.

Enrollment-Open Doors For Extra Ordinary Talent Systematically

Exam- Test Learning With Controlled Organized Exams.

Faculty- Manager Faculties With Transparent and inclusive platform.

Reporting- We will provide Education Ministry Reporting.

Enterprise Resource Planing
Sale-Professionally showcase products and services. Send clear and complete quotations to your prospects.

Accounting – Account receivable, Get Paid Easily, Account Payable, Pay bills, Bank and Cash, Easy reconciliation, Advanced Access Right, Multi Currency, Performance Report, Legal Statement, Analytic Accounting, Subscription, Assets and Revenue.

Inventory- Double Entry Inventory, Delivery Order, Receipts, Inventory Adjustment, Packaging, Multiple Location, Stock Transfer, Multi Warehouse, Drop Shipping, Pick-pack-ship, Cross Docking, Put away & Removal strategies, Bar-code Scanner, Powerful Research, Minimum Stock, Make to order.

Purchase- Create RfQs for supplier, get offer for multiple item, Monitor RFQ and orders, Automate ordering, manage incoming products, create drafts, handle internal move, control future orders.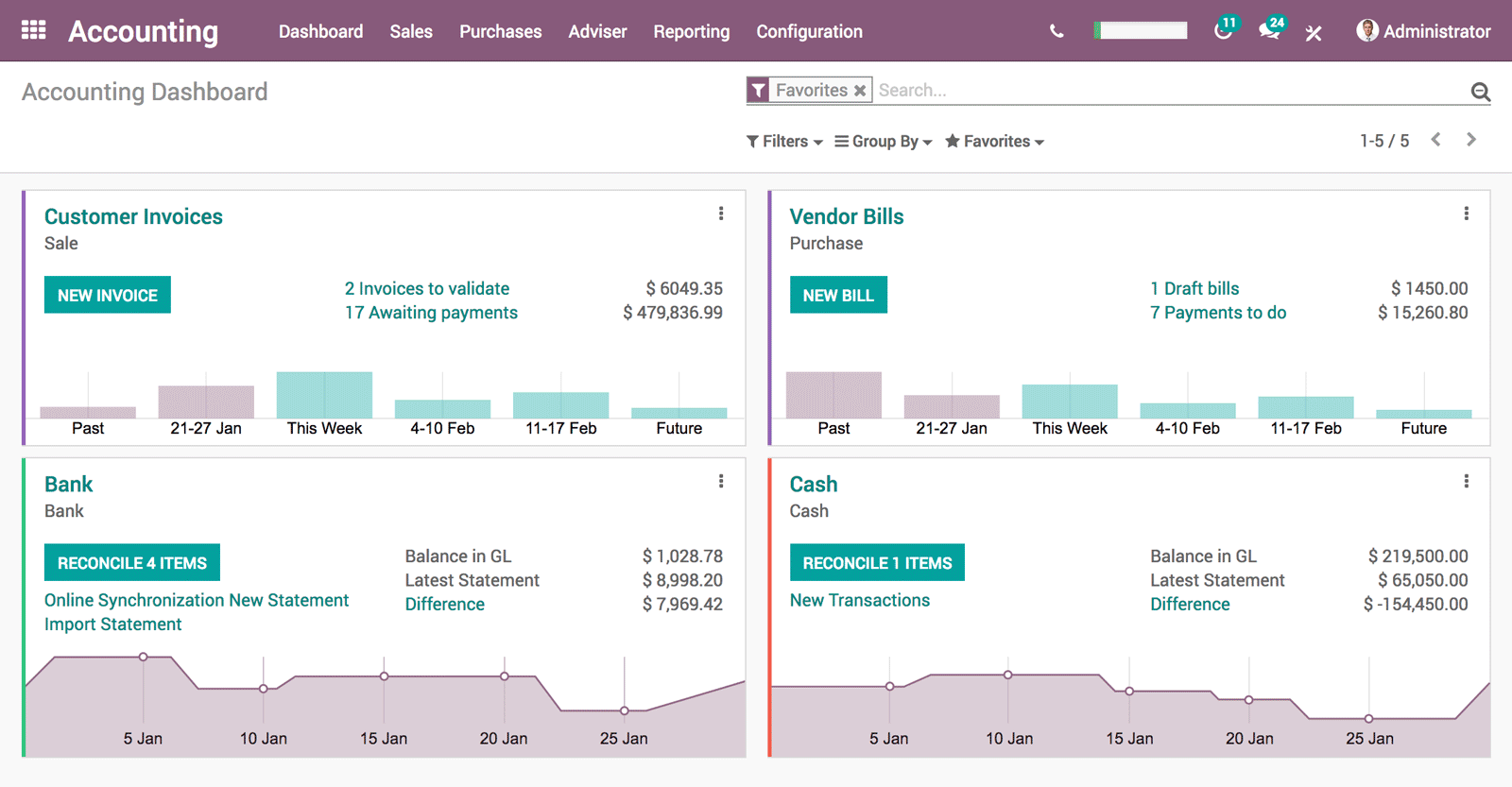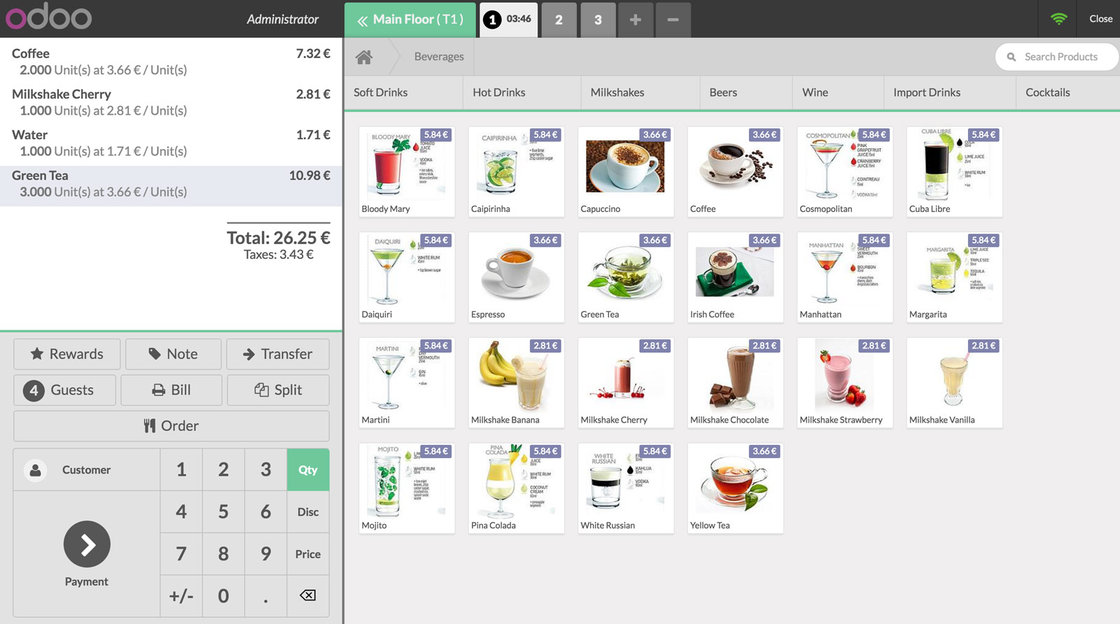 Restaurant Management
Restaurant lets you quickly overview your restaurant and jump from floor to floor to your table's orders.


The floor plan will tell you exactly where are your customers, where are the free tables, who is still waiting for food, how much room do you have left.
1. Fully customization floor plan
2. Supports multiple POS
3. Floor plan entirely optional
4. Can be configured on a POS basis

Point Of Sale
POS is based on a smart interface that any retail company can use without difficult.

it's extremely flexible you can configure POS to meet your precise needs.

Offline or online
While an internet connection is required to start the Point of Sale, it will stay operational even after complete disconnection.


Integrated Inventory Management
Real time control & accurate forecasts to manage procurement.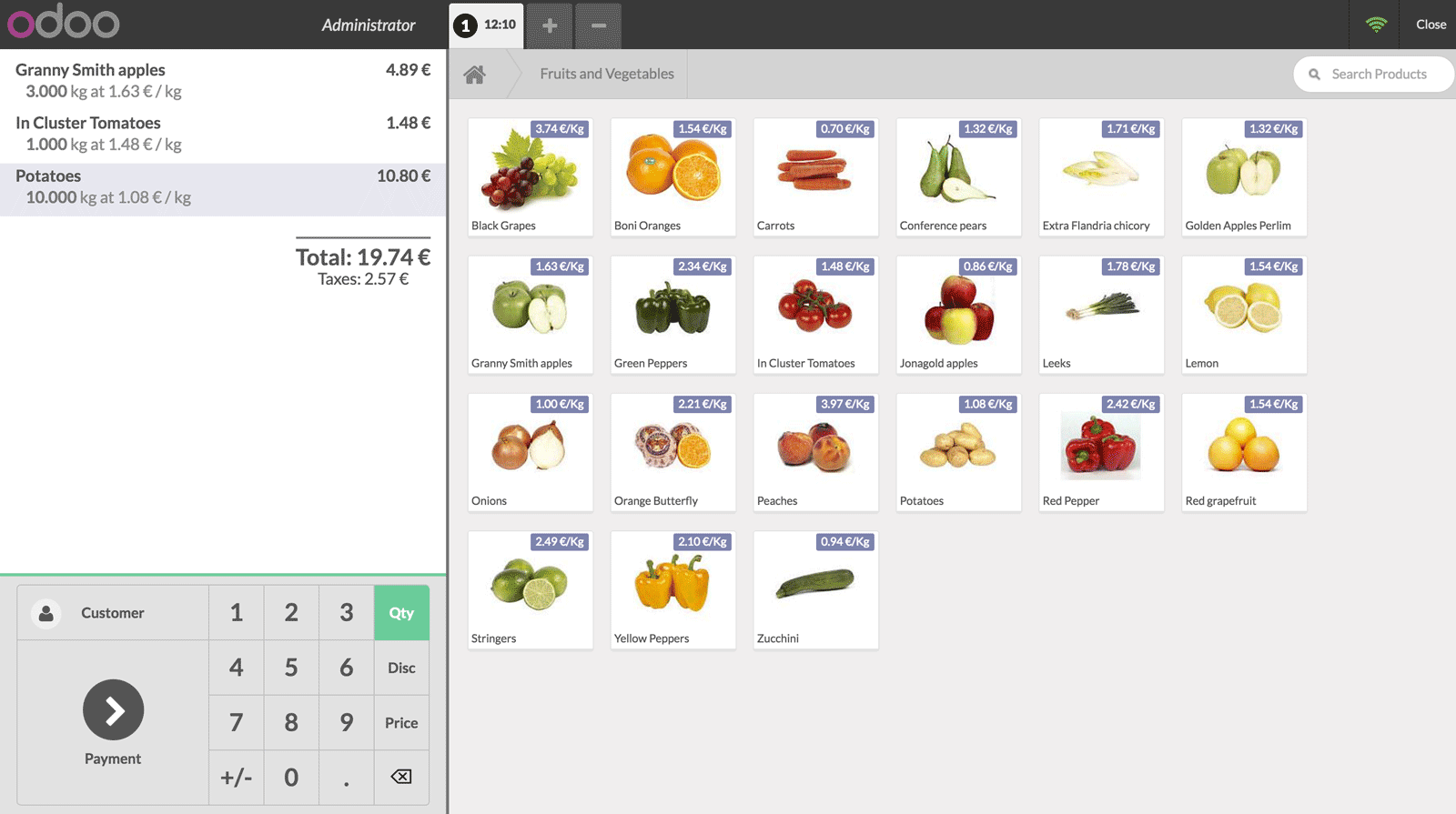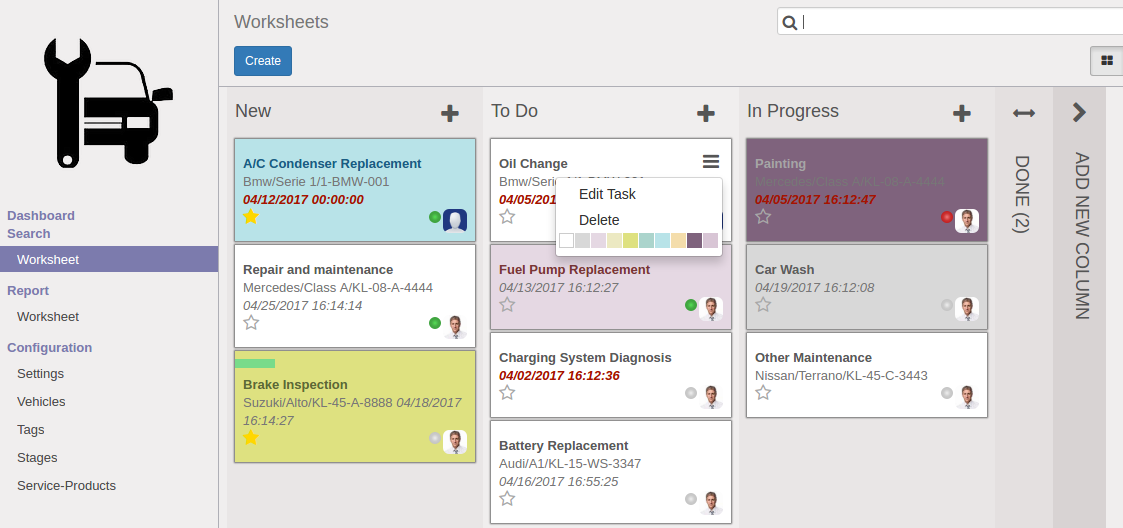 Car Repair Management
Website: customer can send car repair request from your website and can check status of car repair request tickets.

Car Repair Team: Repair Team and Team member.

Car Diagnose: Diagnoses of car repair request and create quotation

Car Work Orders: Create Work Order/Job Order and assigned to Responsible or Technician.

Cars/Car Parts: Create Cars and Cars Parts.

Communication: Technician can communicate with customer using chatter and fill time sheet.

Rating: customer can give feedback and rating of Car Repair Request.

Manufacturing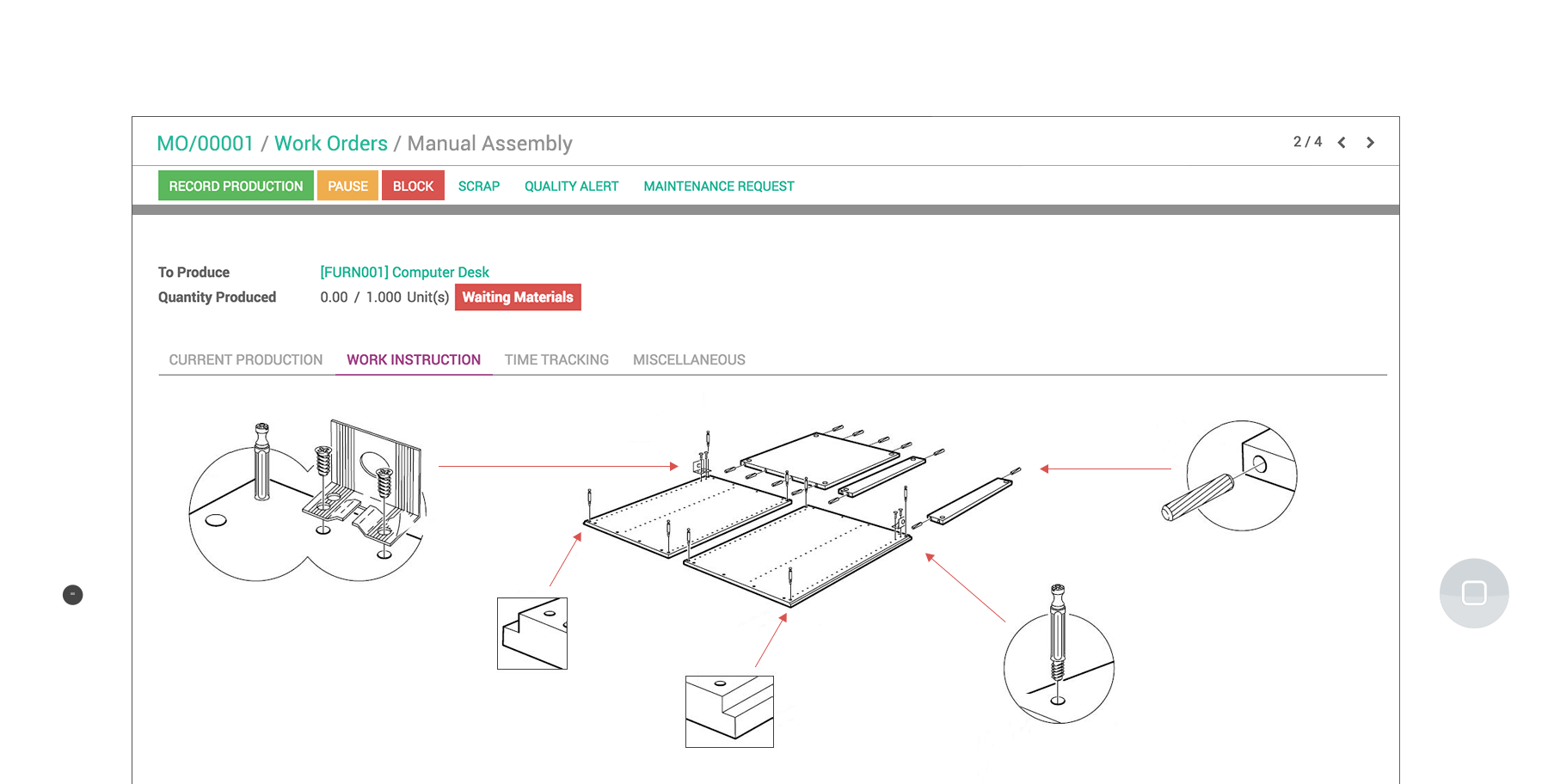 Manage
Manage your products into assembly lines or manual assembly.

Manage repairs of items under warranty or as a service.

Launch production of items needed in the final assembly of your products.

You are now able to consume other products despite what was initially planned and edit MOs once they are done.

Use barcode to speed up your manufacturing operations: lot or serial number scanning, start/pause/stop stopwatch, trigger a maintenance request, move to the next step, etc.

Disassemble a finished product and recuperate components.
Schedule & Plan

Get a clear view on your whole planning and easily reschedule manufacturing.

Have access to all available resources and plan ahead with your production.

Keep track of availability of items in stock and production time.

MRP II scheduler using capacities and schedules of work centers.
Flexible Master Data
Set a Bill of Materials within another in order to manufacture components of a product in another Bill of Materials.

Allow your products to evolve and add configurable options when creating orders.

Create new routing for work orders in order to sequence your production depending on the routing used.

Odoo's kitting features allows your salesperson to sell a kit, but you will deliver a set of products.
Quality
Automatically trigger quality checks for the manufacturing department.

Deploy your statistical process control easily with checks.

Organize your work using the kanban view of quality alerts.
PLM
Easily get differences between versions to track changes.Track changes with a great kanban process for ECOs.

Track versions of products and ECO's as well as their respective documents. Merge different ECO's corresponding to the same BoM.

Store plans and worksheet directly on bill of materials and routings.
Maintenance
Trigger maintenance requests automatically based on KPIs.

Trigger corrective maintenance directly from the control center panel.Schedule maintenance operations with a calendar.

Get all maintenance statistics computed for you: MTBF,...
Work Center Control Panel
Set tablets on every work center to organize their work efficiently.

Register productions, scan products, lots or serial numbers.Display worksheets directly on the work center with instructions for operator.

Scrap products, create quality alerts, perform checks, right from the workcenter.

Use alerts to show changes or quality checks to the operator.

Define multiple steps in a work order and link them to worksheet pages: scan a product, take a picture, quality control, etc.
Reporting
Get a full upstream traceability report on the components used during the manufacturing process.

Track the cost of each manufacturing order based on the cost of the components and on the cost of your operations (labor or material).

Analyze your work centers loads, the productivity losses and track your overall equipment effectiveness (OEE)